03 Jun 2021
An Interesting Read: From A – UK: transporting your veteran car internationally in the post-Brexit era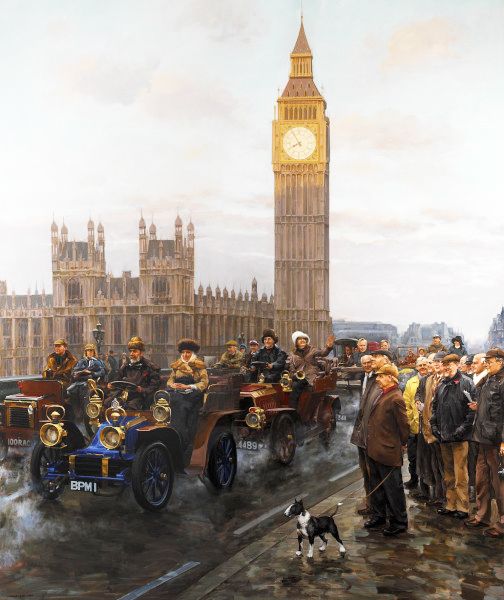 With Britain's exit from the EU, it's no longer as straightforward as it used to be to bring your European-registered veteran car temporarily into the UK to take part in events such as the Run.
We spoke to James Walker, General Manager of CARS (Classic Automotive Relocation Services), who are world leaders in the air and sea freight shipment of historic, rare, and prestigious vehicles, about the implications for owners looking to temporarily import their vehicle into the UK. Note: please be aware that the rules regarding the permanent export of cars are quite different!
What are the new requirements for owners temporarily importing a historic vehicle into the UK from overseas?
For vehicles registered outside Europe coming temporarily into the UK, nothing has changed. The vehicle requires a formal customs entry and also needs to be registered as a tourist vehicle, using form C110 (see below).
The change is for EU road-registered vehicles which are being temporarily imported to the UK – and, given that many owners chose to transport their vehicle themselves into the UK for events on their own trailers, it's important that they understand the new regulations.
Prior to Brexit you could simply bring your European-registered car over on a trailer without any paperwork being required, other than an insurance Green Card, under the provision for freedom of movement for vehicles. Now form C110 is mandatory – so your car must be registered as a tourist vehicle. This should be done before you arrive in the UK and can be done via the British Government website.
At present it's not known if a formal customs entry will also be required, so you must check the GOV.UK website for any additional requirements which may come into effect. This is currently something of a grey area as there has not been any tourist traffic on the ferries since Christmas 2020.
If a vehicle is being brought over on a commercial trailer as opposed to being transported on a privately-owned trailer, it is classified as freight, and will definitely require a formal customs entry as well as form C110 – this is something the company managing the transportation will arrange.
Are there regulations around trailers?
The UK does not require trailers to be separately registered, but privately owned (non-commercial) trailers plated to carry 3500kg or more will need to be registered before you can drive them through most European countries and must display their own unique registration plate. Information on how to register a trailer for this can be found on the GOV.UK website.
All trailers must be properly insured to be towed on the road in the UK/ Europe as appropriate.
Can I still drive internationally on my existing licence?
If you have a full, valid driving licence issued in any overseas country, you can drive in the UK for at least a year. UK driving licences are valid in all EU countries and also in Iceland, Liechtenstein, Norway and Switzerland, but you will need an International Driving Permit to drive in Monaco.
Do I need an insurance Green Card and an ATA Carnet?
Regardless of whether you're temporarily importing an EU-registered vehicle into the UK or temporarily exporting a UK-registered vehicle into Europe, you will need to carry an insurance Green Card for the tow vehicle, trailer and the vehicles on your trailer (if they are road registered). And you must also carry trailer and vehicle registration documents.
An ATA Carnet permits the tax-free and duty-free temporary export and import of non-­perishable goods for up to one year. Non road registered cars (such as race cars) will require an ATA Carnet when travelling into the UK or Europe. Road registered vehicles will not require an ATA Carnet.
Finally, do you have any particular caveats for owners moving their classic vehicles temporarily between the UK and Europe?
Although new regulations and guidance are in place, it is still something of a movable feast, as import and export arrangements continue to be refined. An added complication is that each European country has its own customs authorities, and rules are not standardised across EU states, which could have implications for owners of UK-registered cars looking to temporarily export their vehicle into Europe.
The information I've given here is current, but I strongly advise owners to check either with the UK Government website or with a specialist vehicle shipper such as ourselves, to make sure that they are working within the very latest restrictions.
---
ABOUT CARS
For more than three decades, CARS (Classic Automotive Relocation Services) has looked after some of the most irreplaceable motorcars in the world and has the expertise and experience to ensure they arrive in perfect condition, on time, and with no unexpected costs.
CARS is able to action any shipping request through its own offices in the UK, New York, Los Angeles, Dubai, Japan and The Netherlands, and via its network of global agents. More…
---
ABOUT THE FEATURED IMAGE
This painting is one of a set of murals by Mao Wen Biao which were commissioned by the Royal Automobile Club in 1995 to mark the Club's centenary in 1997. It depicts a scene on Westminster Bridge, with spectators watching the parade of veteran cars that pass them as they leave Westminster early in the morning.