01 Sep 2021
Tales from the Run: A family affair at the Start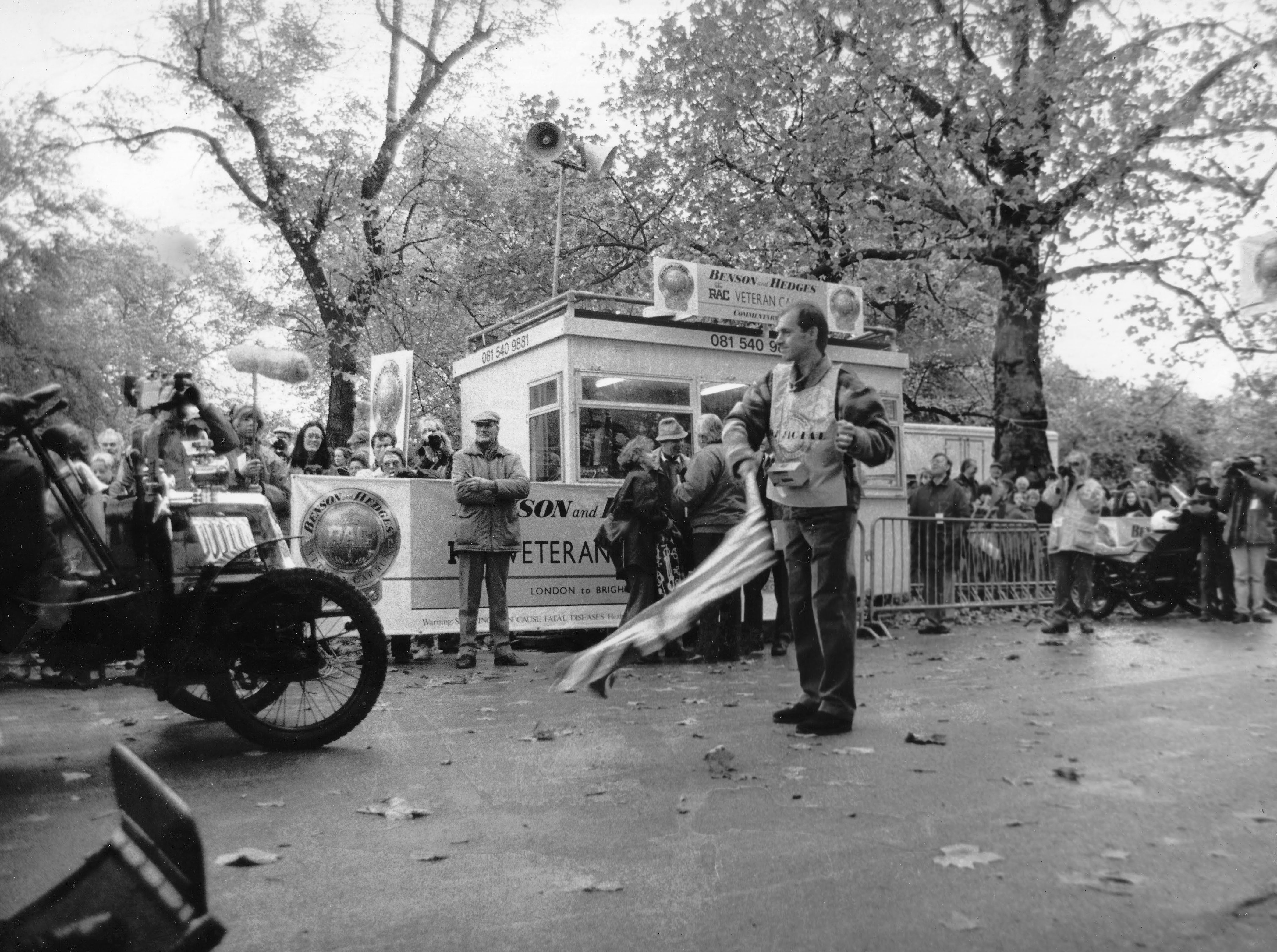 Nick Lovell will be a familiar face to Run participants. He has been a volunteer in the Start Line team of the Run since he was a teenager in 1975 and Timekeeper since 1994. It's very much a family affair - his girlfriend of just two weeks back in 1975 is now his wife of 40 years, and she has marshalled alongside him ever since, and now their son is also part of the team! And the whole story started with Nick's father...
My involvement with the Run started around the time that my father, Peter Lovell became employed by the Royal Automobile Club as their Chief Engineer in 1975. Starting the Run was one of the roles that came with the job, and I marshalled at his first event, which was that same year. Since then I have missed only two years, 1982 because I spent a year travelling and 2020, the reason for which we all know.
In 1975 I was 17 and had grown up surrounded by the world of cars and motor sport, as my father had been a club racer since his mid-twenties. The opportunity to be involved in such an historic and famous event was as special to me then as it today. The Start Line team in those early years of our involvement consisted of our family and our friends. My father flagged the cars off as Starter and we checked them off as they left the start. It has remained a family and friend team for the past 45 years, with essentially the same procedure.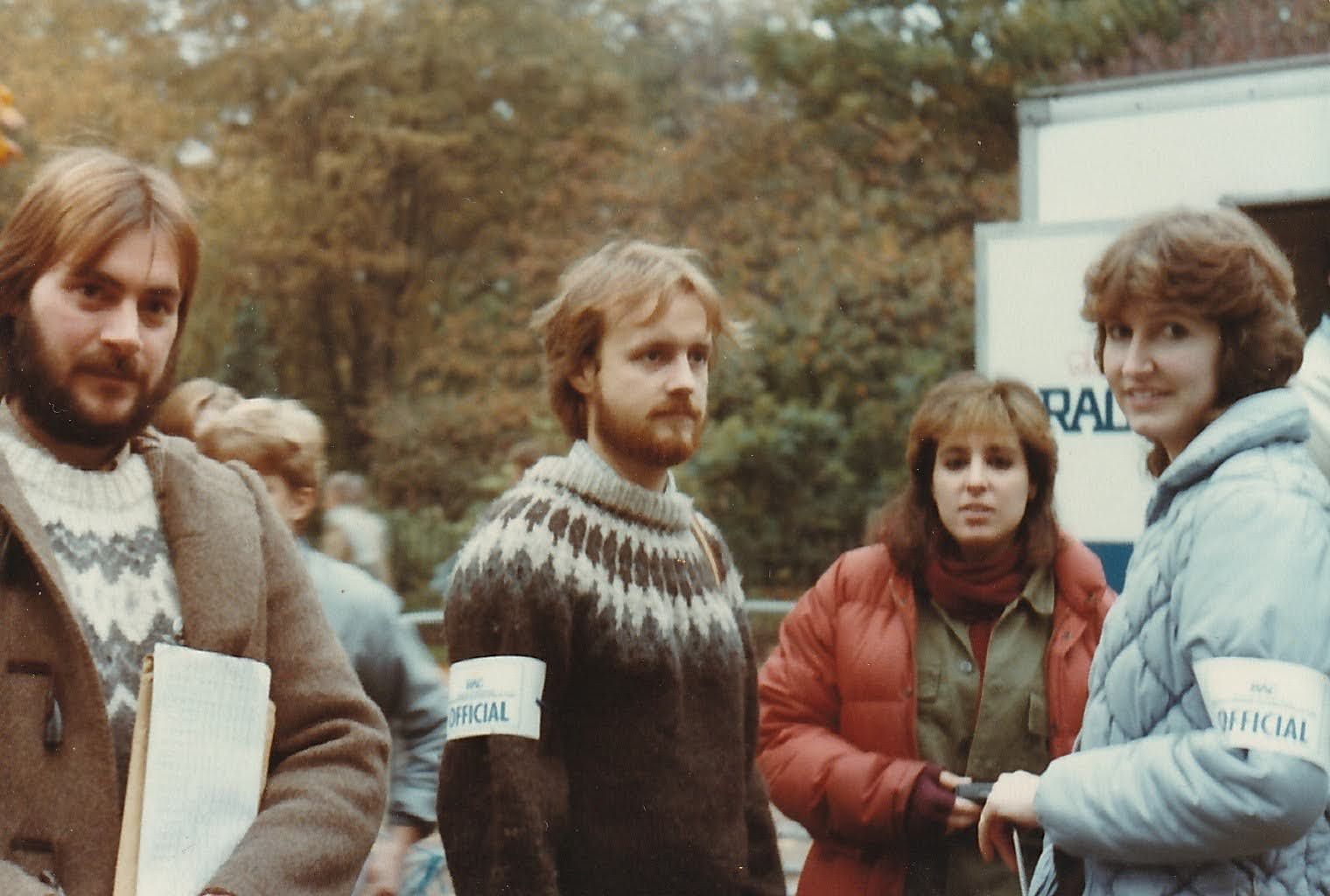 Image shows Nick (on the left) in Hyde Park for the 1985 Run
Chris, my girlfriend of just two weeks in 1975 and now wife of 40 years has been a marshal since that first year as well, and has only missed the same two years as me. She is shown below at the start in 2017 with Damon Hill and Charley Boorman. And, although I do not recall the exact year that they started to help, my very long-standing friends Pete and Debbie Anderson have been involved since the late 1970s and continue to volunteer.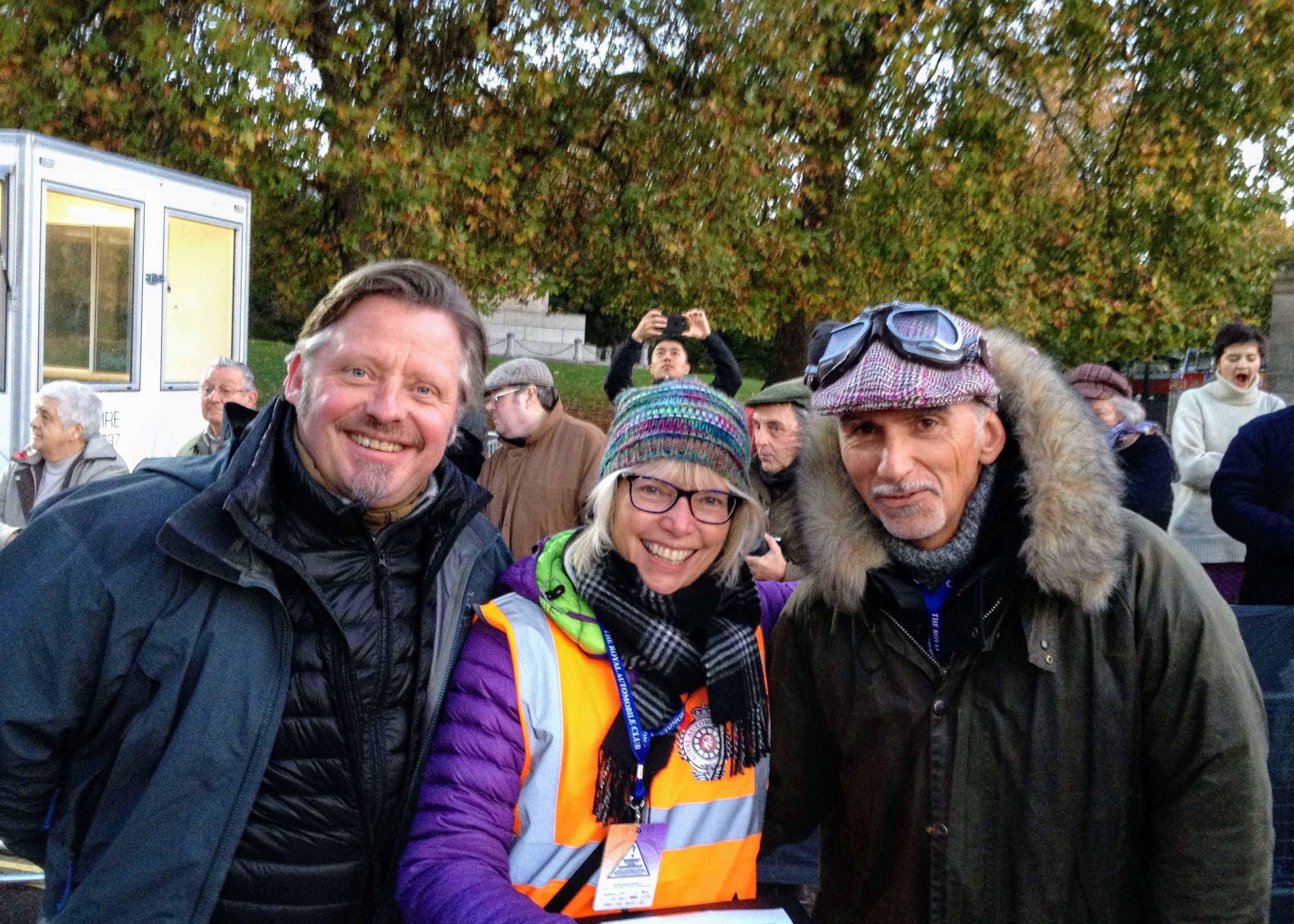 My father retired from his position as Chief Engineer in the late 1980s but continued to start the Run. He recalled that the RAC Motor Sports Association - who at that point was organising the event - was thrown into a bit of a quandary when he said that as he was retiring he would no longer be starting it. He agreed to continue but, in 1994, decided that at aged 75 he deserved a lie-in on the first Sunday of each November. Again RACMSA were at a loss as to who could fill the vacancy, so my father asked me if I would like to take the role on. I felt very honoured to have been asked, the Run having been so much a part of my life for nearly two decades, as it continues to be. (See image of the 1994 Start Line at head of page)
I was privileged to have won the award of Volunteer of the Year in 2018 for my involvement in the event. It was particularly special to have been part of the centenary run in 1996 when 680 cars entered.
The Start Line timekeeping team is now an incredibly experienced and dedicated group of friends and family, including our son Fred and his partner Te Ana. Most of the team have been volunteering for the period that I have been Timekeeper at Hyde Park, some for much longer, I could not continue in the role without their precious commitment.
It has been, and continues to be, great fun!