21 Sep 2021
World's Fastest Man opts for life in the slow lane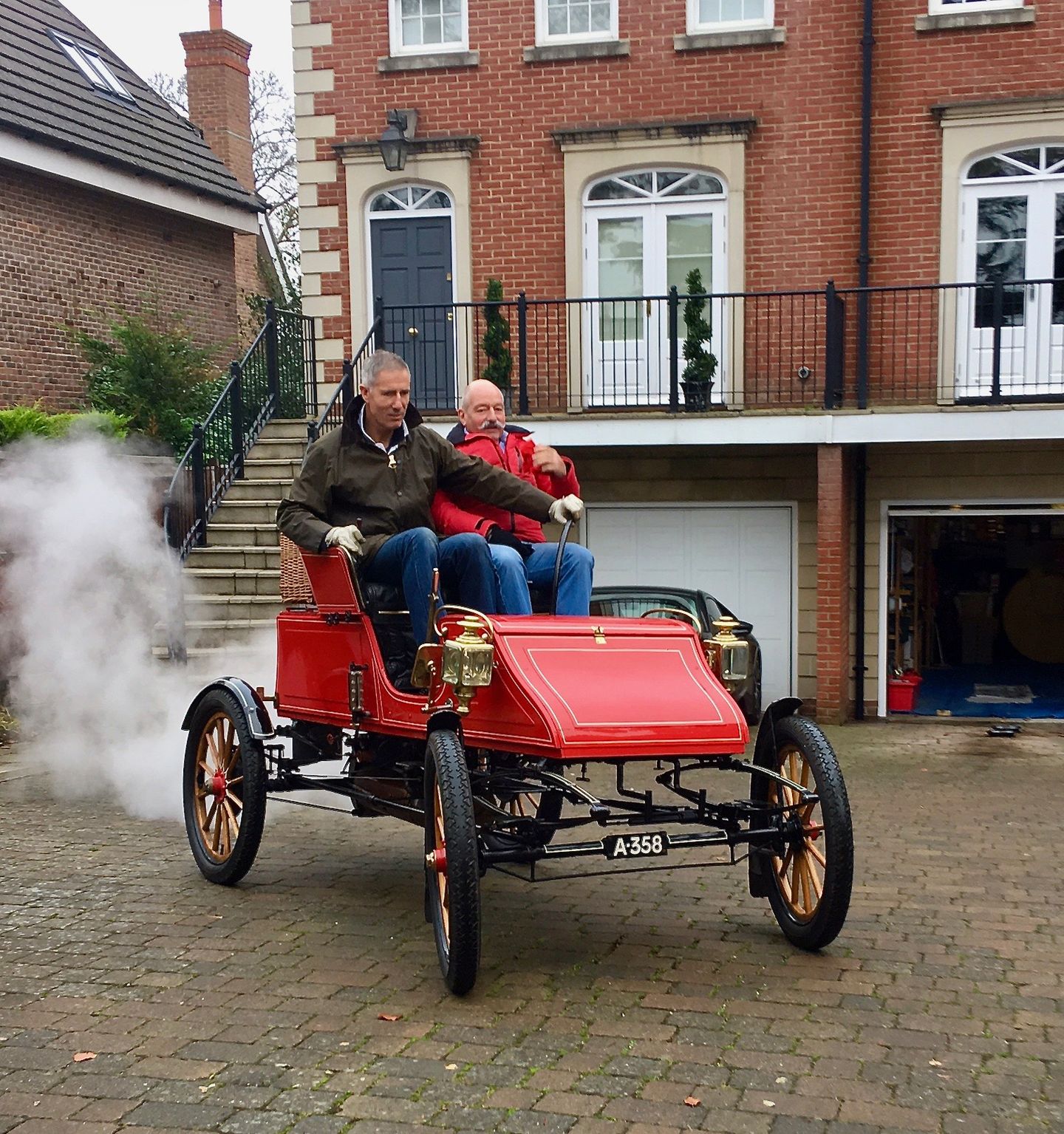 Driving an Edwardian steam car might appear a somewhat slow-moving assignment for a former RAF jet-fighter pilot and the current World Land Speed Record holder, but for Wing Commander Andy Green OBE he is embarking on an equally exciting mission.

Having been a passenger on many previous occasions, the fastest man on the planet has now acquired his own 1904 steam car and, in his eagerness, was one of the first to enter the 2021 RM Sotheby's London to Brighton Veteran Car Run, which takes place on Sunday 7 November.

"I've been lucky enough to be involved in all sorts of different motoring events from driving supersonic cars all the way down to local track racing and there is nothing quite like the magic of the London to Brighton Run," enthused Green who was the first person to break the sound barrier on Earth when topping 760mph in Thrust SSC back in 1997.

"A good friend [Daniel Nash] has a 1902 Haynes-Apperson and is a regular on the Run. A few years ago he offered me and my wife a ride and we absolutely fell in love with it at first bite. It's just a fantastic event with a very special atmosphere all of its own."

Having now experienced several Runs and observed all the different varieties of pioneering technologies in action, Green set his heart on acquiring an early steam-driven veteran car.

"Going back to the turn of the last century, the automobile was a brand new innovation, whereas steam power had been around for a long time with technology developed on the railways. So, by comparison to other early vehicles, in many ways they are a lot more sophisticated," he explained.

Steamers also have fewer moving parts which was a further draw to someone who, by their own admission, has limited engineering abilities and was planning to maintain the car themselves having recently retired from full-time RAF duties.

"While the simplicity was one big attraction, I also really liked the way steam engines seemed to perform on the roads to Brighton," continued Green. "The fact they run pretty much silently most of the time and didn't need pushing up hills. They also have a certain element of elegance and refinement which appealed to me.

"We were lucky enough a couple of years ago to find just the car we were looking for… and we are now the proud owners of a 1904 Stanley Runabout."

Green missed the Run in 2019 while putting Bloodhound LSR through its paces at 600+ mph in South Africa and was frustrated that last November's escapade had to be postponed due to the global pandemic.

"We were already to go in 2020 but for all the obvious reasons the Run had to cancelled," acknowledged the 59-year-old Midlander. "Like so many others, though, we are all the more excited after last year's disappointment – even more so as this will be the milestone 125th running of what's such a special celebration."

Green, of course, is hoping it will be easier and more relaxing to reach Brighton than it was when breaking the sound barrier on Nevada's semi-arid Black Rock Desert. Even so, he knows that 60-mile journey will not be totally stress-free.

While the ten gallon fuel tank will hold enough petrol (normal unleaded from the pumps) to keep the furnace's flames burning from capital to coast, the 18 gallon water tank will need filling up at least twice en route.

The outmoded tiller steering mechanism, though, will not prove an obstacle to a former fighter jet pilot. "My wife looks at it with great suspicion as the tiller is not quite as intuitive as a steering wheel, but given the choice, I'd have a tiller every day," he confirmed. "It's so easy – you just point the stick in the right direction and that's where the car goes. Moreover, you don't have all those extra linkages and racks that come with a steering wheel, so there's less to go wrong. It gives you more space in the cockpit, too, which for a small car is ideal."

On another positive note, the newly-acquired Stanley also has a good finishing record. The archives reveal it has started the hallowed Run nine times and completed the course on no fewer than seven of those occasions. On the downside, however, this will be its first outing since 1976.

If all does go to plan, the trip should not take too long as, for its period, the Ferrari-red painted 2+2 steamer is something of a prancing horse.

"The top speed is actually staggering even to me," admitted Green. "This is a very simple two-cylinder steam engine and yet, when it was new, it was capable of more than 50mph in short bursts. Extraordinary performance for a runabout road car of that era."

Indeed, as the fastest man on Earth is also keen to point out, the Stanley brothers used an almost identical two-cylinder similar engine – although in a longer, lower, more streamlined body with a higher pressure boiler – to set a new land speed record in 1906.

Speeding down Daytona Beach in the Stanley Rocket, Fred Marriott was clocked at an incredible 127mph. It was the first, and only time, in history that a steam car has ever claimed the outright Land Speed Record – a record, of course, Green has now proudly held for more than 20 years.

Over the years, the fascination of the London to Brighton Veteran Car Run has attracted many land and water world speed record holders and Green will be following in the wheel tracks of others including Sir Malcolm Campbell, George Eyston, Kaye Don and Richard Noble.