14 Apr 2020
An Interesting Read: Food, Drink & Automobiles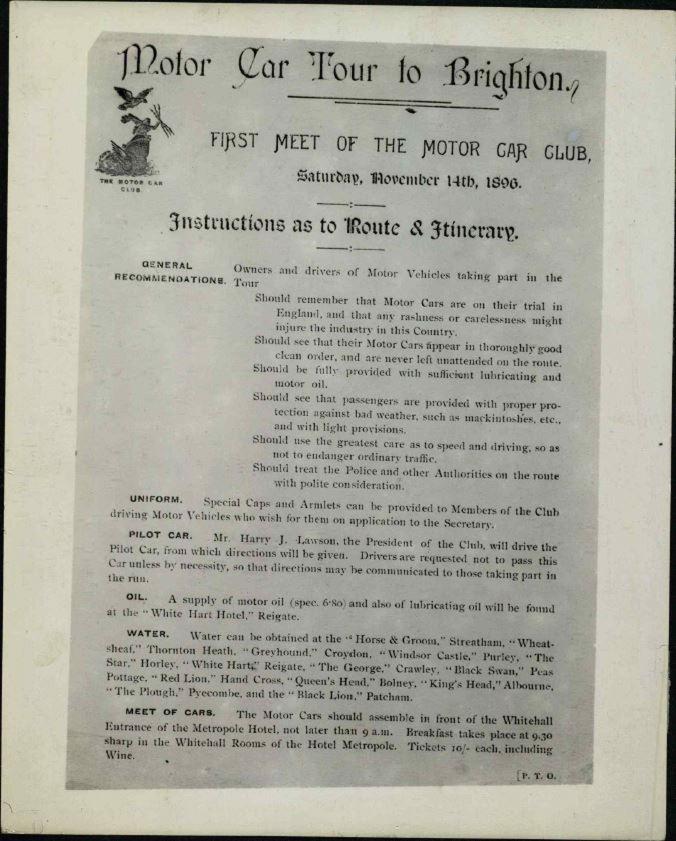 Motorists were not the only people who benefited from the Emancipation Run on 14th November 1896, hoteliers profited too.
The day began with a lavish breakfast at the Whitehall Rooms of the Hotel Metropole London, for 150 guests including Lord Winchilsea who symbolically tore up the red flag. For ten shillings guests could partake of several courses and an extensive wine list. A further stop was made for the official luncheon at the White Hart Hotel, Reigate where yet more food and wine was consumed before a horn was sounded at 1.20pm heralding the next stage to Preston Park. Some drivers decided to proceed directly from Reigate to Preston Park and some may have wished they had done the same as the alcohol and air mingled together.
At the turn of the century automobiles were the domain of the upper classes and their owners would have expected three meals a day consisting of aperitifs, hors d'oeuvres, multiple main courses, and dessert. The growth of the British Empire in the 18th and 19th centuries resulted in many of these dishes exhibiting an international flavour. Kedgeree was one such dish. The popular breakfast mix of fish, spices and rice was a western interpretation of the Indian dish Khichri, introduced to Britain by members of the East India Company returning from overseas.
French cuisine also became very fashionable with the motoring fraternity. The Prince of Wales, later His Majesty King Edward VII, was a keen motorist and gastronome. Gallic fare was a royal preference and the upper echelons of society rushed to ape him. Foie gras, truffles, patisseries and champagne were all consumed in the finest homes. Other specialties included duck cooked and served in its own blood.
The rise of motoring and cycling tours in the 1900s resulted in picnics increasing in popularity. Originally derived from outdoor medieval hunting feasts, the French term pique nique first entered the Oxford English Dictionary in 1748 as `picnic', denoting an outdoor gathering where everyone contributes food.
Edwardian picnics were extensions of the extravagant dining experienced at home. Dishes were wrapped in greaseproof paper, with game pies, devilled chicken legs and the like, contained in white enamel tins. Several automobile marques such as Rolls-Royce and Renault even created picnic baskets to complement their touring vehicles on country jaunts.
Upon taking delivery of his new Rolls- Royce in 1911 Royal Automobile Club member Rudyard Kipling wrote, `A day in the car in an English county is a day in some fairy museum where all the exhibits are alive and real'.
This new found spirit of exploration also brought us packaged food. The process of canning was used to make foodstuffs last for longer. When Captain Scott set out for the South Pole in 1910 he was given free packaged food for the expedition in exchange for advertising. Many of the brands found in Scott's hut at Cape Evans became Edwardian ousehold names. Next time you stop for a cup of Typhoo Tea or a bar of Cadbury's on the route, you can do so knowing that you are following in the footsteps of Edwardian pioneers.